Chez Manny – Maturing, Mellow and Moreish
Over the last almost decade, Chez Manny's cosy restaurant nestled away in the cobbled backstreets of Battersea has been the constant setting for the regular and often boisterous birthdays dinners, anniversaries and just about any other event my group of friends and I could think to celebrate. Returning to London after living abroad for a few years, it is nice to see how Manny's establishment over time has grown into it's own skin, both in terms cooking techniques, presentation and décor.
This is wonderful, as now, almost ten years after the restaurant opened, we're all a bit longer in the tooth and want something delicious to sink those long teeth into. We also like to sit on nicely upholstered chairs, at tables with table cloths and new glassware, whilst taking our time deliberating over the wine list, which was always extensive. We now, however actually have a tiny clue about the nuances of this nectar of the gods, although you don't need to as Manny will always find out exactly what you like and recommend something which, in my experience, has always been spot on.
Chez Manny is getting prepped and ready for the next phase in his culinary adventures with a new and revamped look to be revealed this spring. I am told that once all the work is done, the whole experience will have been taken up a notch. He will also be launching an outside catering arm, for people with a discerning taste for French food. Busy times ahead.
As you might have gathered from the above, Manny has been a friend for years. There are a couple things about writing a review about someone you know: One is being upfront about it. Another is that what you know inherently from a friendship, can be deceptively tricky to capture explicitly in text. So when I came to do my review I had a thorough list of questions – perhaps a little to Manny's surprise, yet once you get him talking about his trade, his passion quickly warms him up!
Whilst sipping a bottle of 2009 Paul Zinck Pinot Blanc from Alsace, I wanted to know more about his philosophy on food. His answer was detailed, but this is the gist of it: Make the dish as interesting as possible, whilst keeping the flavours in harmony with each other. Avoid unnecessarily complex concoctions, just to be clever. As a foodie through and through, Manny recognises the urge to present a as full an experience as possible, yet he aims to keep the overall impression coherently satisfying and rustically real.
Portion sizes and cooking techniques have also changed at Chez Manny. The base of sauces and cooking have shifted from cream to butter, giving a lighter effect with the same yum factor. Having reduced the size of his portions slightly, he is still strongly against the concept of side orders being an integral part of the meal. In his opinion, this gives the impression of allowing the customer to choose, whereas it is merely a ploy to hide the real cost of the meal. In his restaurant, all mains come with sides and he is happy to adapt a dish for you, providing the ingredients are on site. If you want more sauce, you get more sauce – with a smile. Or if you're trying to head the other way on those pesky scales, you can have your dressing on the side, no problem. It it clear that transparency and honesty is at the forefront of Manny's ethics. He sums it up nicely, just in time for our starters arriving: "Treat others as you would like them to treat you".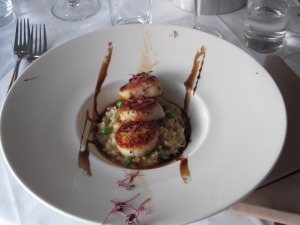 With four of us eating, we were able to cover a fair segment of the menu. I had a delicate salad of home cured duck breast with pears and toasted pinenuts, drizzled with honey and raspberry dressing. The sweet and smokey flavours blended together effortlessly and it was light enough to leave my stomach and tastebuds primed for the main course. The seared scallops served with peas, chorizo and truffled pecorino cheese stood out, melting in your mouth with hints of spiciness. Downright delicious.
The smoked chicken salad with blue cheese and walnuts played on the contrast between the smokey notes of the chicken and the creamy blue cheese, set off by the freshness of baby spinach. The crab tian on a bed of guacamole was fresh, light and sprightly. If I had to pick one thing that in my tastebook could be improved, it was that the crab could perhaps have benefitted from a touch more mustard and lemon to add a hint of extra zing.
Our starters cleared, the conversation wandered on to location. Moving has crossed Manny's mind many times, for the simple reason that he is not the easiest to find for newcomers and does not benefit from the footfall of a main street or mainline station. However this will hopefully become less important as time goes on with huge advances in the education of food audiences and people being more willing to travel for the right food.
Manny tells me how ten years ago transparency and honesty with customers was not accepted in the same way as it is now. These days people would rather be told if there was a minor problem with their dish and the reason why it might be delayed than be fed an ambitious lie. This is a relief for Manny, whose customer manner leans firmly towards the friendly and fluid end of the hospitality style spectrum. Manny was clearly born to be a restaurateur, his manner striking just the right balance of inviting and informal whilst still giving his guests space.
With this, our mains arrive and Manny brings out the next wine, a 2007 Pisano Chardonnay from Uruguay. Again, this wine is perfectly chosen according to what he knows we all like – not all of us are fans of Chardonnay, but this one was not too oaky and relatively light.
I had the pan roasted pavé of halibut (which I now know means a slightly thicker chunk of fish, rather than a thin fillet!) with a roasted red pepper coulis. It was beautifully presented with roasted carrots, potatoes and steamed curly kale and the flavours sung together in harmony.
The others had roast beef and loin of pork, served with red wine and apple and cider jus respectively, both of which were full of flavour and tender. Manny missed out his main as he was called away to to deal with a customer who, having organised a hen night at the restaurant before, wanted to arrange a repeat for another friend. A perfect testament to the loyalty of his customers.
Being perplexed by the delectable taste of the vegetables accompanying my main, I was propelled to kitchen to question the staff of how they achieved this. Expecting stories of honey glazed gloop and who knows what else, I was surprised at the simplicity of it all. Steam, roast in the oven with butter, butter and more butter. Take out and season with specially acquired Brittany salt. So simple, yet so effective and combining it with the steamed Kale was a winner.
Although not really a pudding person, the Dane in me could not resist the rice pudding with Cranberry Sauce. This was simple and to the point. Not too sweet and the sauce hit just the right notes of tangyness. My friend, wanting something light, opted for the green apple quince and champagne sorbet which was music to your tastebuds and another had the apple tart, impeccably presented on a thin almond biscuit base.
None of us ventured into the land of cheese, but for the fromage lovers out there, it usually comes with Camembert, St Agur and whatever other cheesy delights happen to be in their fridge. The selection is always a combination of French and English cheeses accompanied by bread or biscuits - or both if you so desire. There will generally also be an interesting chutney, such as fig.
Ultimately, if you fancy a no-nonsense, gourmet meal in a comfortable, friendly and increasingly stylish environment, Chez Manny is definitely a worthy contender. That it is slightly hidden away only makes it more interesting and a find for those who pursue it.
Chez Manny, 145/149 Battersea High Street, SW11 3JS, Tel: 020 7223 4040, Email: info@chezmanny.com
NOTE: Chez Manny's has now unfortunately closed.
If you enjoyed this, you might like these!